Customers' Winnings
Bear Creek BC D794 Joe Kidd and Valerie. Joe was Rsv GC Buck . Congrats Valerie!!!




Pretty Cool, Joe Kid's Buck just 4 weeks old is in the drive with his Sire!! Location Maryland.



Keilah with Bear Creek BC D866 winning Overall Grand Champion Buck, Nevada, MO July 2015




Sydney with Bear Creek BC D824 Melissa, Overall Grand Champion Doe, Tall Corn ABGA Open Show #2



Bear Creek BC X350 Chief Warrant Overall GC Buck at ABGA Show In Manitowoc, WI Sep. 2009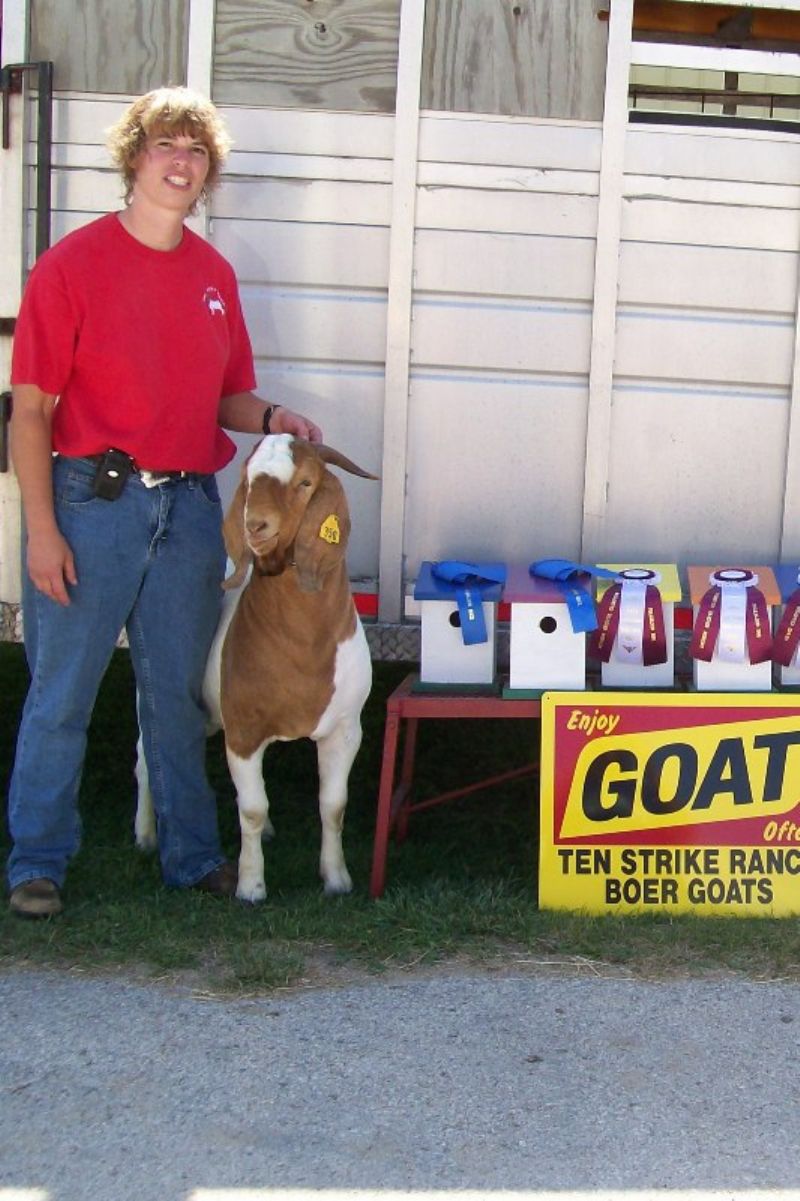 Chief is a Joshua Son, Thank You To Betsy Muehleip for purchasing and showing Chief, Great Job!!!
Hill Country Farm with their GC Wether Out of A Bear Creek Buck (18 Wethers were in the class)




Hill Country Farm with their Res Ch Wether Out of A Bear Creek Buck (18 Wethers were in the class)




Best Rate of Gain Wether Out of A Bear Creek Buck



| | | |
| --- | --- | --- |
| Lindsey's Wether, purchased from Bear Creek Boers, won Reserve Grand Champion at the Sunflower Classic in Hutchinson, KS, AND Reserve Grand Champion at the ABC Classic in Oswego, KS. | | Lindsey's Show Doe, Bear Creek BC V155 |
| | | |
| --- | --- | --- |
| Mollie's Wether, purchased from Bear Creek Boers, won Reserve Grand Champion at Stockton, Mo's County Fair. | | Seth and Lauren with their 2 wethers that placed 2nd and 4th in the Gold Buckle Extravaganza, Ozark Empire Fair Goat Carcass Contest. This was out of 70 Goats, they also had the 5th placing wether. Wether's pictured are out of a DSM Richard *Ennobled* Buck, Bear Creek BC T147 DaVinci purchased from Bear Creek Boers. |
| | | |
| --- | --- | --- |
| | Page 2 of 2 | |
Bear Creek Boers
Freman and Connie Elam
Lebanon, MO
417-532-6056